"This one goes to Eleven!"
Listing your business in one of the top online business directories can help you find and land new customers.
To help you with this "quick win", I have put together a list of the Top 11 Australian Business Directories that you can list your business on, today.
Why You Should List Your Business In An Online Directory
One of the hardest things that you, as a small business owner may struggle with, is creating and maintaining an online presence. You already have a million and one things to do, this is just another item on your ever-growing "to-do list".
That said, there is something that you can do that will give you a big return on your investment both in the short and long term.
You will have to put a bit of effort into it upfront. Then, it's a case of "set it and forget it".
Registering your business with the top online directories, either in your local area and country. Or related to the industry that you are in. Will help you find more new customers and indirectly influence how you rank in search engines such as Google and Bing.
People will be able to find your business through the directory. But being listed on these types of sites positively impacts how people find your website through popular search engines.
When a popular, trusted website (a directory) links to another website (your business). The sites are deems as having a good SEO "relationship". Having your website linked to from a "higher ranked" website, helps your website move up these rankings too.
Which Ones To List On?
It isn't a case of listing in every directory you can find. It can take time to create a listing. So you need to make sure the business directories you do list on will have the potential to start sending you new customers.
To help you get started. I've compiled a list of the best business directories in Australia. Along with direct links to the submit pages, to make listing your business that little bit easier.
Of the top 11, there are some free local directories and some paid, with each directory being chosen due to its Domain Authority score.
The Domain Authority score is used by many to rate how "valuable" they deem a website to be. These websites appear higher up in search results as they are more trusted. Meaning search engines think that the information on a website will be of interest to the person searching.
Google has been using this as a ranking factor since 2014 and has been steadily increasing its warnings.
Domain Authority? What's That?
I'm not going to try to explain what that is. I'm going to leave that an amazing SEO expert, Neil Patel.
Here is Neil Patel explaining about Domain Authority. He quickly describes it as
"Domain authority (DA) refers to the number of relevant backlinks—links to your website from other reputable sites—your site has. The relevance of those backlinks also contributes to your score."
Tips For Listing In Local Business Directories
Here are a few tips for when your are listing your business in the relevant online business directories.
Select the most appropriate category for your business. Are your main competitors listed in one particular category? It will make sense to also be listed alongside them.
Make sure you complete as much of the business listing as possible. Contact information, great photos, case studies, and client testimonials (if the directory allows you to enter this sort of information). It will help you stand out above the crowd.
When entering information such as your name, address, phone number, etc. It needs to match the information listed on your website and your Google My Business Listing. Google and Bing are very clever at linking all this information together, which can help with your websites domain authority rankings
If you are listing on a local business directory and you operate in multiple locations, make sure you link to the relevant location page on your website, for example, /Brisbane/.
Don't just copy and paste from your 'about us' page. Google will recognize this and it could affect your ranking. Make sure the description in your listing is unique to that particular directory. Both the online business directory and search engines will like you for it.
Have a way of tracking which directories you have listed your business on. I have used a spreadsheet in the past, another good way to keep track of your listings, is to use a note-taking tool. I personally love Evernote.
Also, you want to keep track of your logins to each site. I wouldn't recommend a spreadsheet or note-taking app for this. Use an online password manager, LastPass is my go-to app of choice. However, they are getting rid of their free version so it may be worth having a look at an alternative.
The 11 Best Australian Business Directories
"Finally" I hear you scream!
Based on the Domain Authority metric from Neil Patel's amazing tool Ubersuggest. Here is the list of Australia's Top Online Directories. Last updated on the 10th March 2021
True Local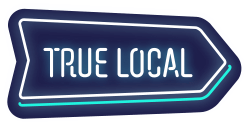 www.truelocal.com.au – Domain Authority: 83
What They Say
"Helping Australians discover and experience all things local since 2006, True Local is an established brand in the minds of consumers and business owners.
True Local is an online directory of Australian businesses with millions of people searching on True Local each month. Search results are listed by relevance and location so users can easily find what they're looking for. Being mobile-friendly makes finding the right business easy when you're on-the-go – check out the free True Local iPhone app. Together, these features add up to make True Local a much more enjoyable and easier experience for consumers, and a winning advertising proposition for businesses.
Business information on True Local not only comes from business owners, but also from other sources including third party content suppliers. This means we can provide comprehensive information on more Australian businesses."
Create a True Local listing for your business
SearchFrog

searchfrog.com.au – Domain Authority: 69
What They Say
"The freshest Australian local directory. Search local businesses, or create a listing and leap ahead of the competition with SearchFrog."
Create a SearchFrog listing for your business
Infobel Australia
www.infobel.com/en/australia – Domain Authority: 58
What They Say
"Established in 1995, Kapitol is the first business worldwide to have developed and published an online telephone directory.
With a global digital platform, Kapitol-Infobel publishes and continually updates a database of some 350 million telephone subscribers and 186 million businesses worldwide. Operating throughout the world, Kapitol-Infobel also offers numerous B2B solutions including a large range of products and services that allows customers to get or improve, use data for the purposes of publication, marketing, advertising, and other data purpose."
Create a Infobel listing for your business
Yelp
www.yelp.com.au – Domain Authority: 55
What They Say
"Yelp connects people with great local businesses."
Create a Yelp listing for your business
Sensis (Yellow Pages)
www.sensis.com.au – Domain Authority: 53
What They Say
"Sensis is Australia's leading platforms and marketing services company. The Sensis purpose is to engage Australian consumers with businesses and today delivers on that promise through its leading digital consumer businesses (Yellow Pages, White Pages, TrueLocal, Whereis) search engine marketing and optimisation services, website products, social, data and mapping solutions and through its digital advertising agency, Found. Sensis is also Australia's largest print directory publisher including the Yellow Pages and White Pages."
Create a YellowPages listing for your business
Hotfrog
www.hotfrog.com.au – Domain Authority: 51
What They Say
"Hotfrog was developed in Australia and launched in late 2005. Since then, the directory now covers 40 countries and is growing rapidly in countries like India, Spain, Germany, France. Hotfrog now has over 70 million listings in 17 different languages.
The use of categories makes HotFrog a true people's directory. HotFrog allows businesses to classify themselves by creating and editing their own tags with keywords associated with their business.
Moboom pursued a range of partnerships with various directories over 2015. It zeroed in on Hotfrog as its main target due to the directory's wide global presence. Moboom then acquired 100% of the directory in November 2016. Moboom recognised the value was in the data given the company's unique ability to leverage content."
Create a Hotfrog listing for your business
ShowMeLocal Australia
au.showmelocal.com – Domain Authority: 50
What They Say
"ShowMeLocal.com is a privately owned company based in New York City. The creators of Showmelocal.com have owned local neighborhood businesses and can relate to the constant challenges that local businesses face in finding new and innovative ways to spread the word about their business in a constant competitive environment and to bridge the information gap between them and the local consumer by posting local business information on consumer based sites such as search engines, online classifieds and local oriented sites."
Create a ShowMeLocal listing for your business
Flying Solo
www.flyingsolo.com.au – Domain Authority: 50
What They Say
"Home to a thriving community of over 100,000 solo and micro businesses, Flying Solo is a source of information, advice and inspiration for Australian business owners. http://www.flyingsolo.com.au/
Flying Solo hosts Australia's most active online small business discussion forums; is involved in events and meet-ups around the country; works closely with Government and the private sector and frequently contributes opinion and commentary to the media.
Meet the core team behind Flying Solo and get a feel for the philosophy that underpins the community here: http://www.flyingsolo.com.au/about"
Create a Flying Solo listing for your business
Start Local
www.startlocal.com.au – Domain Authority: 48
What They Say
"The number one place that Australians discover discounts before they shop"
Create a Start Local listing for your business
Local Search
www.localsearch.com.au – Domain Authority: 44
What They Say
"Localsearch is at the heart of more than 200 regional towns throughout Queensland, New South Wales, Victoria and the Northern Territory. In a nutshell, we're a digital marketing agency, Google Premier Partner, Google My Business Partner and Bing Partner. What we really do is help more than 1.7 million regional businesses of all sizes be seen, be trusted and be connected online each and every year.
Behind the 2 million+ monthly views on localsearch.com.au and our other digital marketing services, are our hard-working team of experts. It's these digital marketing consultants, customer success agents, SEO and SEM gurus, content creators, designers, developers and IT professionals who work tirelessly to help the Aussie businesses with us grow.
What you'll notice, is these people come from your area. They're your neighbour, the people you grew up with, the person you'll bump into when you visit the next town over. And then there's the 150+ friendly faces at our Gold Coast head office.
Our people care about people—and that's what makes us different.
If you care about helping businesses grow, and love all things digital marketing, then maybe this is the place for you. View our current vacancies to see how to turn your job into a career with Localsearch."
Create a Local Search listing for your business
Business Listings

www.businesslistings.net.au – Domain Authority: 44
What They Say
"BusinessListings is an Australia business directory that provides online sales leads to businesses by providing customised information to customers.
BusinessListings allows all Australia businesses to create a comprehensive online profile to present their products and services. These profiles help clients to make informed choices when choosing a service provider.
BusinessListings is indexed by Google and other search engines such Yahoo! and Bing, meaning that customers can find your listing when they use their favourite search engines.
It's FREE for businesses to advertise on our site. Business Listings is under no obligation to promote one company over another."
Create a Business Listings listing for your business
Bonus Online Business Directories
I've found another two business directories that have a domain authority of 40, which is pretty good.
To help you out, and if you aren't fed up of creating your listings, here are another two you can register with.
LocalBD
www.localbd.com.au – Domain Authority: 40
What They Say
"Local BD is Local 's Favorite Local Business Directory"
Create a Localbd listing for your business
dLook
www.dlook.com.au – Domain Authority: 40
What They Say
"dLook Online Advertising agency are one of Australia's leading business search sites, including multimedia, landing pages, directory services and more"
Create a dLook listing for your business
Conclusion
Here at Elementary Analytics, we know how hard it is to get people to your website and be able to monitor your stats and bring in new customers.
Listing your small business in an online directory, at a local or national level is a smart things to do.
It is time-consuming to create your listings, making it hard to find the time for you or a member of your team to do it and do it properly.
However, the benefits can be huge, providing a stream of customers, not only within a few days, but long term.
These directories will directly send potential business your way on a consistent basis. If the number of people that use their site is increasing. It also means the number of people you can potentially reach increases too.
When these directories link back to your site they help you climb up the search engine rankings as well. So more and more people will be coming across your site on a day-to-day basis.
I hope you have found this post useful? Thanks for reading.
Oh, just one more thing.
If there are any other directories that you think should be on the list, let me know and I will get this post updated.